A LIVE online course overview of how the ministry of chaplaincy fits into a broad educational context. Building on the foundation course a practical extension of skills, theology and theory for those working as chaplains in education
Available options to book online now:
17 April 2024
CERTIFICATE - 17th April, 1st May, 15th May, 5th June
£225 - Signup here
ATTENDANCE ONLY - 17th April, 1st May, 15th May, 5th June
£30 - Signup here
Over the four days, this module will deepen a chaplains understanding of their calling through further studies in theology and theory, whilst also exploring best practice in areas of educational chaplaincy including: the chaplain in the schools structure, chaplain to staff and families, sacred spaces, being a critical friend, bereavement and remembrance, discipleship, self care and building team.
The course will have input from experienced practitioners, case studies from primary secondary and FE sectors and invite discussion and sharing from all participants. The student participating in this course will feel better equipped in their role and inspired by those they have met and learned from.
The course will take place online over four days, 10am - 4pm.

"I have been a chaplain in schools for a while now and this course offers me a chance to explore new directions and greater depths for my role."
Tutor: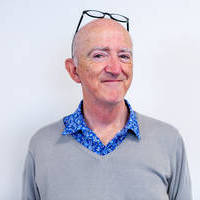 Nigel Roberts
Lecturer
Nigel has worked in youth work and education for 38 years. He led several local centres for Youth for Christ before joining head office as Education Advisor. Nigel continues in this role as he tutors students at the Institute for Children, Youth, and Mission, where he has created and contributed to many of the CYM chaplaincy courses and developed working standards for Chaplains with children and young people. Nigel is a qualified drama teacher and was a community chaplain in a secondary school for 17 years. Nigel also works for the Saltley Trust, developing chaplaincy initiatives in Further Education across the West Midlands. He has a passion for drama and its place in youth work and ministry and led the professional theatre company Red River Theatre for 15 years, winning several awards and performing around the country and in front of the United Nations.

Nigel has contributed to several books and journals, including:
Core Standards of Christian with Children and Young People, CYM, (2019) Nigel Roberts & Rev. Dr. Sally Nash & Dr. Paul Nash
Drama and Faith: Using the Arts to Communicate the Christian Faith, Grove, (2022)
Research Interest
His research interests focus on the theology of chaplaincy and models of chaplaincy, particularly in education. He is also interested in spiritual development in schools and colleges and how it is taught and evaluated. He continues to research the use of drama in youth work.
Contact Details
Email: nigel.roberts@cym.ac.uk
Address: CYM, 16 Commerce Square, Nottingham, NG1 1HS
Phone: 0115 777 0102

Where will this course take place?
This course will be held online. Details of meeting codes will be sent out in advance of the start date.
Who is this course for?
People interested in deepening their understanding of educational chaplaincy and those exploring chaplaincy in schools.
What will they get out of it?
A range of theory and theological viewpoints, a host of lived experience and practical ideas, inspiration for developing their role.
Future prospects?
A useful qualification to share with schools to show that you have undertaken some training in the area and have gained an understanding of context and role. The course also enhances your cv when applying for chaplaincy roles.
Any other information...
Much of the teaching will be pre recorded and available for visiting again after the course.

Arrange a call back for a one-to-one chat